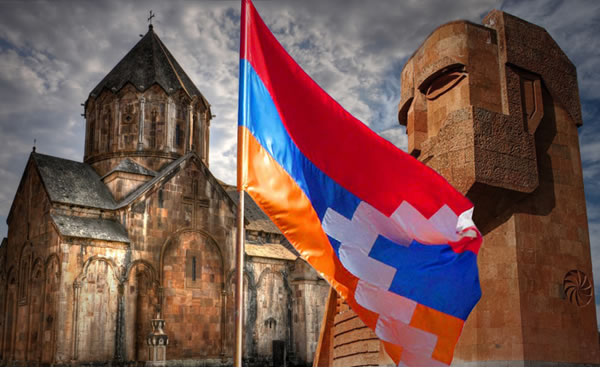 Our joy in this hopeful season of Eastertide was shaken this week by painful reminders of the simmering danger to life in Armenia's border regions.
Armenians throughout the world have been moved by the terrible news that border towns in Nagorno-Karabagh (Artsakh) were shelled by the Azerbaijani army.
The resumption of military operations against Nagorno-Karabagh has led to a loss of both military and civilian life in the small republic. Casualties have mounted among men and women, children and the elderly; numerous civilians and soldiers have been wounded in the attacks.
Readers are aware that a ceasefire has been in place since 1994. It has proved to be a unique agreement between conflicting parties, maintained without the deployment of international peacekeeping forces. Since 1996-1997 the OSCE Minsk Group has been charged with mediating the Nagorno-Karabagh conflict; its co-chairs—the U.S., Russia, and France—have accumulated valuable knowledge and experience, which has helped keep the parties at the negotiation table.
Though the ceasefire was repeatedly violated, especially during the last two years, these episodes have never taken the region into a full-fledged war. A durable peace, while never around the corner, seemed to be within reach on several occasions. This delicate but stable situation has been jeopardized by this week's aggression by Azerbaijan, whereby Armenian-inhabited border villages were targeted and shelled, with a consequent loss of innocent life.
With this directive, I urge our Diocesan leaders to take up a proactive role in helping and advocating on behalf of our countrymen in Artsakh.
(1) His Holiness Karekin II, the Supreme Patriarch and Catholicos of All Armenians, has asked all churches to begin fundraising efforts to support the Armenian families of Artsakh who are being victimized in the hostilities. With this directive, I ask all our parishes to hold a special plate collections for this cause on Sunday, April 10, 17 and 24 and also to mount general fundraising outreach in the community. Contributions can be made to HOLY TRINITY ARMENIAN CHURCH Memo: "Artsakh Relief 2016." If mailing to the church, please do so to arrive before April 30.
(2) On the Internet, the Armenian Assembly of America has created an easy-to-use portal through which to contact your governmental representatives in the U.S. Congress (both House and Senate) urging them to take action in restoring peace in the region, by re-asserting the OSCE Minsk Group cease-fire. Click on the following links to access the Action Alert page on the Armenian Assembly's website, or on the Armenian National Committee site.
(3) Finally, and most importantly, I ask that all our people offer prayers to our Lord to have mercy on our countrymen in this desperate moment, to strengthen them in defense of their homeland, and to grant consolation to the suffering and grieving.
Once again, I urge all our Diocesan leaders—clergy and lay alike—to take an active role in these endeavors, and to forward the information contained here to friends, family, colleagues, and fellow parishioners.
In Artsakh today, despite the decades-long diplomatic effort to end the conflict, death and injury through unprovoked violence remains a heartbreaking reality for many of our countrymen. We offer prayers for those who have died, and for the safety of the Armenians who remain vulnerable to attacks like the ones this week. We pray, too, for the brave soldiers of the Armenian armed forces, who defend their borders at the risk—and too often at the cost—of their own precious lives.
May God establish a just peace among our people of Armenia and Artsakh.
With prayers,
Archbishop Khajag Barsamian
Primate