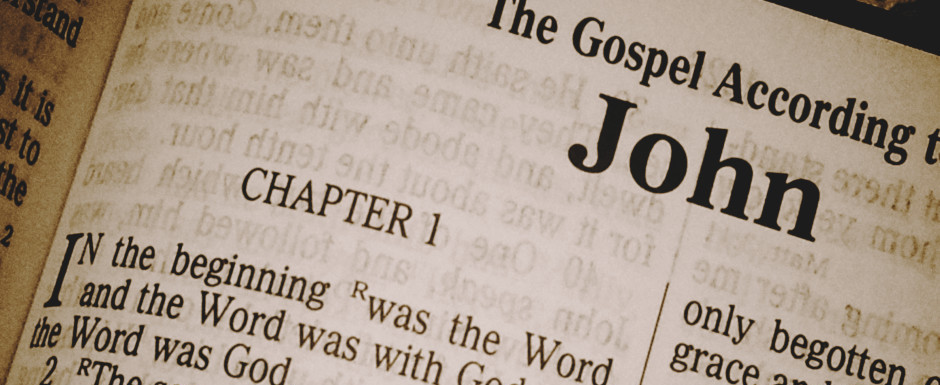 THE SUNDAY MESSENGER
April 8, 2018
Octave of Easter (New Sunday)
While Der Hakob is away on a pilgrimage in Jerusalem, we welcome Very Rev. Fr. Simeon Odabashian, Diocesan Vicar, who will celebrate Badarak with us today. Asdvadz Oknagan, Hayr Soorp. Union with God the Word
What do we mean by the "Word of God?" Why do we refer to God as "The Word?" In Greek, the word is λόγος (logos), in Armenian, բան (pan). In contrast to pagan ideas of λόγος, in the Christian sense, the Word is not an abstract idea, principle, or philosophy. Christians refer to the Bible as the Word of God, but the Word of God in its truest sense is not a book, or the ink on the pages of a book, but a person–Jesus Christ, the Incarnate Son (John 1:1). As such, the Church asserts that all written words in the Bible, including the Old Testament, can only be properly interpreted and understood in light of our knowledge and experience of the person, Jesus Christ.
The notion of «Բան» is one of expression and communication. So what does God as «Բան» mean? God wants to communicate with us, that is, He wants to commune, to be with us, share His divine life with us. Many times we refer to having a "relationship with God," but that is not what the Scriptures teach, nor is it taught throughout the ancient Church. It's not a relationship that we should be after. Inherent in "relationship" is the notion of distance, but as sinful beings, we require more than a relationship. We require communion, unity with our Healer, with God as «Բան,» a self-giving, self-expressing, self-communicating Lord who shares Himself to us. That is the heart of the Christian faith, and only the Christian faith.
TODAY'S BIBLE READINGS:
James 3: 1-12 (page 207) New Testament
John 1: 1-17 (pages 83- 84) New Testament – (Please follow the Armenian Reading in your Bible)
REQUIEM SERVICES: Hokehankist today will be for:
– NAOMI KAPEGHIAN (2nd Anniversary of Her eternal life) requested by Albert Kapeghian.
"Now, our God, hear the prayers and petitions of your servant…" (Daniel 9:17a). We ask that you continue praying for Annabelle Alexanian, Alice Charles, Pearl Jamgochian, & Albert Santerian. Please also pray for the safety and well-being of Der Hakob and the pilgrims who will be travelling with him to the Holy Land – that they will be enriched walking in the steps of our Lord. Remember to pray for our country and her leaders during these trying times; and let us ask the Lord to keep our children in their schools free from further violence and hatred.
ALTAR FLOWERS: Today are donated by Albert Kapeghian in loving memory of NAOMI KAPEGHIAN (2nd Anniversary of Her eternal life).
FELLOWSHIP HOUR: You are invited, long time parishioners, new members, and first time visitors, please join us after Badarak in our lovely hall for Christian fellowship, enjoy a cup of coffee or tea, and greet fellow parishioners and Der Hayr. The coffee hour begins when Der Hayr blesses the table. There are containers available to deposit your trash before leaving the hall. We appreciate your patience, cooperation, and support. Thank you.
YOUGHAKIN DONATION: Traditionally during Easter, gifts of oil, Youghakin donations are made to the Church. The notion is that by offering oil you keep the lamps of the church burning, these would always be resources in order to keep the doors of the church open. Your gift is gratefully appreciated.
Please support the Annual Church School Lenten Drive that benefits the needy in both America and Armenia. The students are raising funds two ways. One; by asking for sponsorships for the angels they are decorating. These angels are being hung in the Church School classroom hallway. It would be lovely if the hallway was filled with angels. Second; by putting their weekly collection into a jar marked for this fundraiser. We have placed a tub in the church foyer for you to help. Please be generous. If you would like to sponsor an angel, stop by the Church School office with your donation. Thank you for your support of this worthy cause.
SUNDAY MORNING EDUCATION SERIES: We are pleased to announce that three members of our community—Yn. Anna Gevorgyan, Brian Hoyle and Emily Movsesian—will share their Christian knowledge and faith experience with us on three consecutive Sunday mornings beginning April 15. Each program will be held in the sanctuary from 10:00 to 10:30; Badarak will begin as usual at 10:30. Our Adult Christian Education ministry is committed to providing opportunities that will enable our congregants to grow in their faith. For more information, pick up a flyer available in the narthex and lobby. No registration is required.
Merle Santerian is seeking parishioners to help her by taking over, preparing and serving at the Sunday Fellowship Hour once a month. A husband and wife team would be nice, or any two parishioners who wish to do it together. Merle would prepare a schedule for those who are interested, where once a month they would run a regular Sunday Fellowship Coffee Hour. Please contact Merle at Coffee Hour, or by cell phone, 215-205-1507; home phone, 215-947-3777, to let her know you are interested and willing to take on this job. She will be happy to fill you in on what the job involves.
FAR UPDATE: Fund for Armenian Relief's Ayo! platform is helping two teachers in rural Armenia to achieve their shared goal: installing science labs in each of their schools. The Fill the Gap. Build a Lab. project will ensure that students in regional schools have better access to higher-quality education. Lusine Vardumyan teaches in Armavir Province and Venera Abovyan in Aragatsotn Province. Since there are no labs, the two can only teach theory. Building physics and chemistry labs at the schools will give students the opportunity for hands-on experimentation, and may also spark the curiosity of the children who are eager to learn. To read more, go to [LINK: http://farusa.org/2018/03/28/ayo-new-ayo-project-aims-to-build-science-labs-in-two-villages/] To support the project, go to [LINK: http://weareayo.org]
Support Me in the Walk to Stop Suicide : Please support me as I walk from dusk till dawn in the Out of the Darkness Overnight Walk on June 16, 2018. Help end the silence surrounding suicide and depression.ToDonateVisit:TheOvernight.org/participant/Maggie Miller or I have donation forms in my office that can be mailed in or you can send me a check or cash and I will make the donation for you in your name. Please consider helping me reach my donation goal for this very important event. Thank you! Maggie
Using the Pew Book: In order to enrich understanding of the Divine Liturgy, we encourage our faithful to follow along in the large two-part Pew Book. Part One includes the classical Armenian used in the Liturgy; the facing page is the translation in modern Western Armenian. Part Two contains the transliteration of the classical Armenian; the right-hand page has the English translation. This Pew Book includes the prayers of the celebrant usually offered inaudibly. The prayers offered aloud are indicated in boldface type.
CHURCH CALENDAR (please mark your calendars)
April
April 2-10 Parish Pilgrimage to the Holy Land
April 8 Guest Celebrant: V. Rev. Fr. Simeon Odabashian (Diocesan Vicar)
April 15 10:00-10:30 "All Good and Perfect Gifts" (Emily Movsesian)
April 22 10:00-10:30 "Get Me to the Church on Time" (Brian Hoyle)
April 29 10:00-10:30 "My Faith Pilgrimage to Jerusalem" (Yn. Anna Gevorgyan) & Film "Women of 1915" (following Liturgy)
THE NICENE CREED/ HAVADAMK – This is the Profession of our Faith which is recited every Sunday moments after the Gospel is read from the altar. Sometimes it is sung, but more often it is recited by the Deacons and/or the Choir. We invite you to affirm your own "Profession of Faith" by reciting along with us. God longs for all of us to express our faith and devotion to Him.
THE KISS OF PEACE: After the gifts of the Eucharist are brought to the Altar Table, the deacon proclaims, "Greet one another with a holy kiss." The person giving the greetings says, Kristos ee mech mer Haydnetsav – Christ is revealed amongst us. The recipient would respond, Orhnial eh Haydnootiunun Kristosee – Blessed is the revelation of Christ.
Anyone who wishes to request any Requiem Services MUST inform the office by 1:30pm Wednesday the week before. If you also want to sponsor the Fellowship Hour you MUST call Merle Santerian at 215-947-3777.
Would you like to:
– receive this Bulletin on Friday via email?
– request a Hokehankist, house blessing or hall rental information?
– find in-depth information on our faith, our parish and our activities?
– sign up for an event online?
– If the answer to any of these questions is YES, please visit our parish website at www.holytrinity-pa.org
WE ASK THAT EVERYONE KINDLY TURN OFF ALL CELL PHONES and all other such electronic devices prior to entering the sanctuary out of respect for the sanctity of our services.