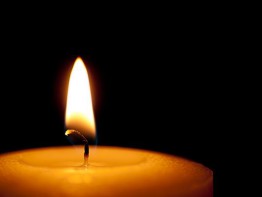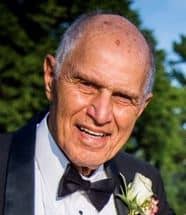 Harry Injaian died peacefully in Naples, FL on April 24, 2021 at the age of 93 with his wife Mary and granddaughter Jennifer by his side. 
He was born in Camden, NJ to Vahan and Arshalous (Sinanian) Injaian. Harry attended Woodrow Wilson HS in Camden, NJ and was in the last February graduating class. While there he was an outstanding halfback and punter on the football team, scoring many touchdowns and having the best punting average in South Jersey.
Harry later entered the prestigious Moore School of Engineering at the University of Pennsylvania. He joined the Navy in 1944 during World War II and reached the rank of Seaman First Class. He took part in many sports in the Navy, including boxing and later pitched for a semi-pro baseball team. He returned to the University of Pennsylvania in 1946 under the GI Bill. While at Penn, he played on the nationally ranked "Munger Men" football team as a standout defensive back. He graduated from the University of Pennsylvania in 1950.
He was also one of the founding members of Cam-Phi. Cam-Phi is an independent Armenian athletic association that fielded many very competitive basketball teams through the 40's and 50's. Later generations would continue the Cam-Phi basketball tradition in the 70's and beyond. The Cam-Phi camaraderie drew the members together frequently for picnics and other gatherings.
Harry worked as a sales representative for Honeywell Instruments and later for Fluid Controls Company. He met and began dating Mary Torigian in June,1951. Mary and Harry dated for a year and were married on June 15, 1952 at Holy Trinity Armenian Church at Susquehanna and Marshall in Philadelphia.  Harry worked for Fluid Controls Company in Philadelphia and relocated the family to Virginia in 1956 where he worked until 1961. He later became the owner and president Fluid Controls working out of the Philadelphia office until his retirement in 1991. He was avid golfer and tennis player and made good use of the family membership at Riverton Country Club. Harry was an accomplished bridge player and won tournaments with Mary and with his Riverton Country Club team.  Harry accumulated Master points by winning and placing in national tournaments.  Mary and Harry lived an idyllic life in Moorestown, NJ for many years with a tennis court and swimming pool in the back yard. They hosted numerous tennis and pool get-togethers with family and friends.
After retirement, Mary and Harry spent their winters in Florida, but continued to come North to see family and friends during the summer. Harry took advantage of the warm weather in Florida to play golf and tennis during the winter. Mary and Harry enjoyed 40 years of the warm Florida sun. After 68 years of blissful marriage, a loving family with the children, grandchildren, and great grandchildren it was a life well lived for Harry.
He is survived by Mary (Torigian) his wife of 68 years, sons Michael (the late Rose) and Gerald (Susan), 6 grandchildren (Jennifer, Lisa, Allison, Tyler, Natalie, and Jarred) and 7 great grandchildren.God bless the memory and bring comfort to the family.
In-lieu-of-flower donations to Holy Trinity Armenian Church would be appreciated.
– Online: www.holytrinity-pa.org/donation
– Mail: Holy Trinity Armenian Church,
    101 Ashmead Road, Cheltenham, PA 19012
"For you have been my shelter, a strong tower against the foe." (Psalm 61:3)