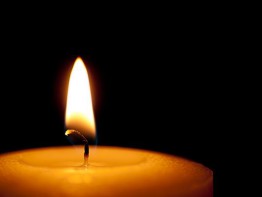 Lori Lucy Aghazarian of Philadelphia passed away at the age of 49 on July 5, 2022. She was the loving daughter of Lucy and the late Dr. Aram Aghazarian, sister to Aram Alan Aghazarian, and dear friend to many whom she considered her chosen family. She grew up in Elkins Park, PA,  and was a graduate of Cheltenham High School and Temple University. 
 
An adored and widely admired member of the Philadelphia professional theatre community for twenty-five years, over the course of her career Lori worked for Opera Philadelphia, Prince Music Theater, Philadelphia Live Arts & Fringe Festivals, the annual Barrymore Awards for Excellence in Theater, and a fourteen-year stint as Production Stage Manager at the Walnut Street Theater, as well as Spoleto Festival USA, Eugene O'Neill Playwrights Conference, and American Players Theatre. She most recently worked on the production staff of MC3 Meetings and Training in West Chester, PA. 
 
Lori's career was spent behind the scenes as a stage manager and theatre technician, so while audiences may not have known her, there are few who work in the community who don't know her name, and there are hundreds who will deeply miss her eye for detail, professionalism, candor, and most of all, her unique brand of humor that only she could deliver. She may not have been a professional performer in the strictest sense, but to her friends and family, she was a master storyteller with perfect comedic timing, a razor-sharp wit, and deadpan humor, her face remaining unflinching for the punchline, and then inevitably breaking into a grin with her unmistakable giggle. She often spoke volumes without uttering a word, delivering shrewd commentary using only facial expressions and her trademark masterful single-eyebrow lift. 
 
Lori was keenly creative and had an eye for beauty in both function and form. She loved upcycling and refinishing old furniture. When she was in Maine, she scoured used shops to find interesting objects and collectables, restoring them to their former beauty and using them to decorate her home. 
While she loved the things of beauty made by people, she maintained that nature was the best decoration of all. An annual attendee of the Philadelphia Flower Show and an avid patio gardener, she would often decorate her front door with wreaths made of twigs or wheat, and her home and clothes were always earth tones, the colors she felt were the most naturally beautiful. She would dry orange and lemon slices to use as potpourri, and every year she dyed Easter eggs using red onion skins, an Armenian tradition. 
 
She loved to capture the everyday beauty she saw all around her, and was a serious amateur photographer for most of her life. She had the uncanny ability to see images that most people would miss, capturing them in photo form so that others could witness them, too. Her subjects were often the things she loved most in life – nature, friends and family, her pets, the Philadelphia cityscape, food, and her travels. She was passionate about visiting new places, experiencing other cultures, and trying new foods, even in her own town. She loved a good diner, and ate at many bad ones in her unceasing search for the best ones, even coming up with a personal pie rating system with a friend, so they could keep a running scorecard of the best diner pies around. 
 
She was loyal, quietly loving, and always willing to fight for what was right. An unabashed liberal Democrat and West Wing fan, she was unsurprisingly passionate about politics. She supported women's rights, volunteered for political campaigns, and participated in numerous political marches. She was also deeply proud of her Armenian heritage and spoke out against the Armenian genocide, helping to educate others about it. 
 
A graveside service for Lori, officiated by Rev. Fr. Hakob Gevorgyan, will take place on Wednesday, July 27th at 11:00am at West Laurel Hill Cemetery in Bala Cynwyd, Pa. Family and friends are welcome. According to her wishes, an outdoor celebration of her life is being planned for the fall, for all who knew her. In lieu of flowers, donations can be made to the David Sheldrick Wildlife Trust, Wildlife SOS, or any nature conservancy. 
  
"For you have been my shelter, a strong tower against the foe." (Psalm 61:3)