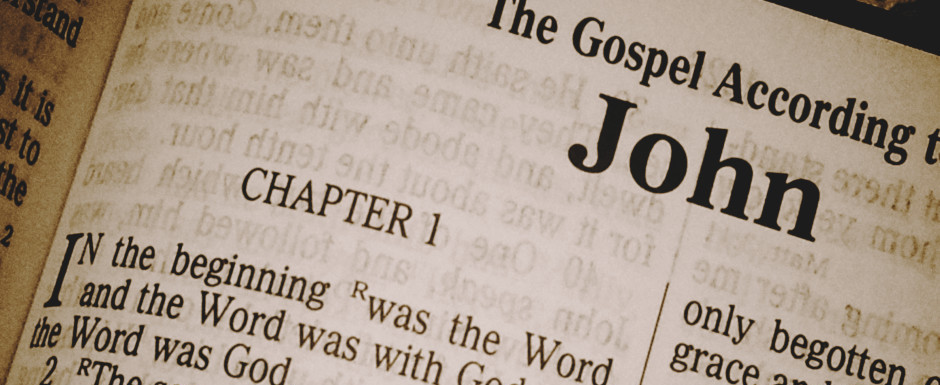 THE SUNDAY MESSENGER
January 26, 2020
Second Sunday after the Octave of Theophany
Is John 3:16 the Gospel in a Nutshell?
For years, many Christians have quoted John 3:16 as the Gospel in a nutshell, the best summary of why Jesus Christ came to earth and what it means for the world. Made famous at sporting events, you may have witnessed fans hold up an occasional "JOHN 3:16" banner as a tool of evangelism, hoping onlookers will look up the verse in the New Testament and immediately discover a perfect summary of the message of Christianity. But is John 3:16 the Twitter version of the Gospel? That is, on its own, does John 3:16, as wonderful and profound as it is, encapsulate the fullness of the Gospel?
Consider the context in which we read John 3:16, a conversation between Jesus and a Pharisee named Nicodemus, who visited Jesus by night in order to privately inquire as to who Jesus is. During their encounter, Jesus says to Nicodemus, "Unless one is born of water and the Spirit, he cannot enter the kingdom of God," which the Church has always interpreted as a reference to Holy Baptism. Then, having made mention of baptism, Jesus proceeds to the source of it, that is, the Cross, which is where we find John 3:16. The fullness of the Gospel cannot be summarized in any one verse, but to simply quote John 3:16 and ignore the essential connection that baptism has with salvation is a gross error and omission.
Moreover, the Gospel is not a message or an idea, it is not reducible or even something to think or talk about. We are not saved by the message of Jesus Christ, we are not healed by an idea, and we are not baptized into a story. The Gospel is a person; it is someone to be encountered – the person of Jesus Christ. He is the "Good News" of God coming to earth to share his divine life with us, to redeem all of creation, the entire cosmos. The eighth-century Armenian theologian and Church Father, Stepanos Siwnetsi affirms that the Gospel is embodied in the person of Jesus Christ when he writes,
For it is not a minister who pronounces the Gospel, or even an angel, but the Lord of heaven and earth himself, saying, 'I came from the Father and have come into the world.'
Although we live in a culture that values the skill of getting a message across with a minimal amount of characters, the fullness of the Gospel is not reducible to a bare minimum. As John 3:16 says, "For God so loved the cosmos," we cannot reduce the Son of God, his entry into the world, into our very lives, his redemption of the universe, and how we are to respond to him with holy living in one verse or several words. This is not to say that John 3:16 is less meaningful or that reading the Bible is unimportant, but to raise its significance. We have flippantly reduced baptism to a badge of membership and Scripture reading to quotable proof texts. What we cannot further afford to do is reduce the Gospel to a few lines from Scripture as holy as they may be. Otherwise, we have become out of touch with the fullness of the Gospel, with who the Gospel is and what the Good News teaches.
If the Gospel is Jesus Christ, flesh and blood, and Scripture tells us to "preach" the Gospel, then we should live like Jesus Christ. If we have truly encountered the Gospel in the person of Jesus Christ, then what other way can we live? As a parish community, as individuals on a daily basis, wherever we find ourselves, do our lives preach Jesus Christ to the world so others can encounter the Gospel as well? In other words, if Jesus Christ is the Gospel, and if we live in communion with Christ, then how do we embody or incarnate the Gospel to the world?
TODAY'S BIBLE READINGS:
1 Timothy 4: 12-5:10 (page 190) New Testament
John 3: 13-21 (page 86) New Testament – (Please follow the Armenian Reading in your Bible)
Isaiah 58: 13-59:7 (pages 734-735) Old Testament
"LORD, the God of heaven, the great and awesome God, who keeps his covenant of love with those who love him and keep his commandments, let your ear be attentive and your eyes open to hear the prayer your servant is praying before you day and night…." (Nehemiah 1:5-6). Prayers are requested for Edward Tatoian, Rose Minassian, Ethel Terzian, Taron Poghosyan, Jan Mirijanian, Alice Charles, Armen Mirakian and Pearl Jamgochian.
REQUIEM SERVICES: Hokehankist today will be for:
– ARCHBISHOP PAPKEN VARJABEDIAN, KEGHAM & SONIG VARJABEDIAN, SHAHE VARJABEDIAN, and HAGOP & MIRIAM VARJABEDIAN requested by the Paretchan, Garibian, and Javardian Families.

– HAYARPIE & CHARLIE GARIBIAN and NIAZ KARABIAN requested by the Paretchan, Garibian, and Javardian Families.

– ANTRANIK & VIRGINIA JAVARDIAN and ANDRE JAVARDIAN requested by Greg & Maria Javardian and Family.

– SOOREN & MARY PARETCHAN requested by Robert & Diane Paretchan, Donald & Judy Paretchan, Michael & Tanya Paretchan and Families.

– RICHARD & EVELYN WEINSHEIMER requested by Greg & Maria Javardian and Family.

– SUZAN GARABEDIAN (1ST Anniversary of Her eternal life) requested by Markrid and Nazareth Keshishian and Family for their cousin.
NEW COMMUNION PROCEDURE – Before gathering for confession, please allow time for the Choir Members to come down and join us before we begin.
ALTAR FLOWERS & CANDLES are donated today by the Paretchan, Garibian, and Javardian Families in loving memory of ARCHBISHOP PAPKEN VARJABEDIAN, KEGHAM & SONIG VARJABEDIAN, SHAHE VARJABEDIAN, HAGOP & MIRIAM VARJABEDIAN, HAYARPIE & CHARLIE GARIBIAN, NIAZ KARABIAN, ANTRANIK & VIRGINIA JAVARDIAN, ANDRE JAVARDIAN and SOOREN & MARY PARETCHAN.
Coffee Hour today is sponsored by Sabrina and Antranig Garibian in celebration of daughter, Daniela's second birthday. All are welcome.
Did you know that when we participate in Soorp Badarak (Divine Liturgy), we are also being invited to a meal (communion) offered by our Lord and Savior, Jesus Christ. As such, we should dress in a manner worthy of that invitation. We ask our faithful to dress appropriately for worship. Please, no very short dresses, shorts or bare shoulders. Thank you.
A QUESTION-AND-ANSWER SESSION WITH DER HAYR: We're doing something different today. In lieu of Fr. Hakob's sermon, he will use that time to open the GOLDEN QUESTION BOX which has been sitting in the narthex for several weeks. We were asked to submit questions—everything and anything we wanted to know about our faith. Wondering what will be asked? Wondering if Fr. Hakob will be stumped? Join us at Liturgy to find out!
Home Blessings It is part of the Armenian Church tradition to have our homes blessed regularly and especially during the seasons of Christmas and Easter. Please consider bringing this age-old practice to your home in 2020. Having this short service done in your own home will bless you and create a sense of peacefulness for you and your family. If you would like to partake of this beautiful custom, contact the church office (215-663-1600 or office@holytrinity-pa.org) and request a home blessing visit from Der Hakob. Please have a piece of bread, dish of salt and glass of water prepared for the blessing service.
ANNUAL PARISH ASSEMBLY: Scheduled for February 16, 2020 with alternate snow dates of March 1 or March 8, 2020.
REMINDER: According to the Diocesan Bylaws, membership dues are to be paid no later than December 31st each year in order to be a member in "good standing" and to be eligible to vote at the annual assembly. Any monies received after that date will be applied to the new year. For any questions regarding your status, please call the church office.
EMERGENCY CLOSINGS: In an effort to inform parishioners and guests when a Holy Trinity church service or program needs to be canceled or delayed due to inclement weather or other reasons, we request that you check our website (www.holytrinity-pa.org) or facebook page (www.facebook.com/holytrinitypa) for the most accurate information.
CHURCH CALENDAR (please mark your calendars)
January
Saturday January 25th: Marriage Evening Retreat (5 to 9 pm): RSVP by 1/20/20
Sunday January 26th: Q and A with Fr. Hakob

February
Sunday February 16th: Annual Parish Assembly (snow dates 3/1 & 3/8)
Sunday February 23rd: Church School Poon Paregentan Celebration! Look for details on how to register coming soon.

March
Sunday March 1st: Church School Vartanatz Play during Fellowship Hour
2019 Attendance: Plate/Candle Collection:
December
1 – 69 people $309.00
8 – 122 people $623.00
15 – 66 people $559.00
22 – 81 people $372.00
29 – 76 people $401.00
Weekly Expenses: $6,000.00
NEW IN BOOKSTORE: With pride, we are pleased to announce "Acoustic Armenia," a CD by a devoted member of the Holy Trinity family, Karinné Andonian. The music of this album is meant to revere the spirit of Armenian music. The Armenian heart has always sung, and here it sings simply and organically, intending to bring a sense of togetherness and home just as it was when it was created generations ago. Available in Bookstore $12.
Using the Pew Book: In order to enrich understanding of the Divine Liturgy, we encourage our faithful to follow along in the large two-part Pew Book. Part One includes the classical Armenian used in the Liturgy; the facing page is the translation in modern Western Armenian. Part Two contains the transliteration of the classical Armenian; the right-hand page has the English translation. This Pew Book includes the prayers of the celebrant usually offered inaudibly. The prayers offered aloud are indicated in boldface type.
THE NICENE CREED/ HAVADAMK – This is the Profession of our Faith which is often sung after the Gospel is read from the altar. Occasionally, it will be recited by the Deacons and/or the Choir. We invite you to affirm your own "Profession of Faith" by reciting along with us. God longs for all of us to express our faith and devotion to Him.
THE KISS OF PEACE: After the gifts of the Eucharist are brought to the Altar Table, the deacon proclaims, "Greet one another with a holy kiss." The person giving the greetings says, Kristos ee mech mer Haydnetsav – Christ is revealed amongst us. The recipient would respond, Orhnial eh Haydnootiunun Kristosee – Blessed is the revelation of Christ.
Anyone who wishes to request any Requiem Services MUST inform the office by 1:30pm Wednesday the week before. If you also want to sponsor the Fellowship Hour you MUST call Jeanette Der Hagopian at 215-672-4188.
Would you like to:
– receive this Bulletin on Friday via email?
– request a Hokehankist, house blessing or hall rental information?
– find in-depth information on our faith, our parish and our activities?
– sign up for an event online?
– If the answer to any of these questions is YES, please visit our parish website at www.holytrinity-pa.org
WE ASK THAT EVERYONE KINDLY TURN OFF ALL CELL PHONES and all other such electronic devices prior to entering the sanctuary out of respect for the sanctity of our services.