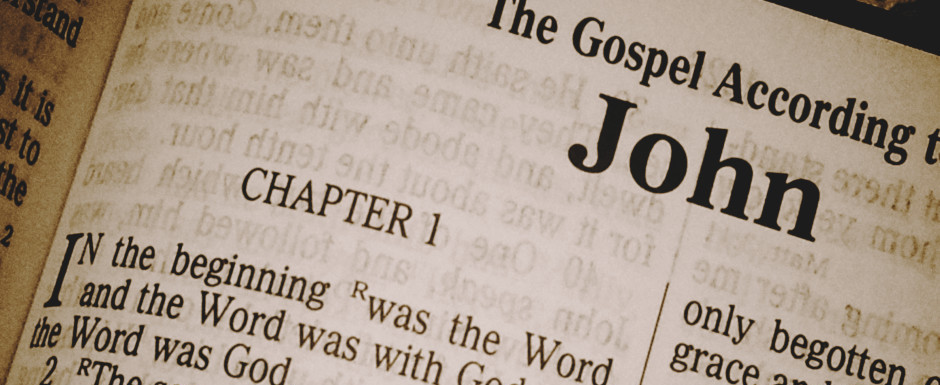 THE SUNDAY MESSENGER
December 6, 2020

Barekendan of the Fast of St. James 
UPDATE ON THE STATUS OF ARTSAKH AND ARMENIA
Artsakh & Armenia continue to be in a state of turmoil, upheaval & sorrow. So much of the land in Artsakh was taken, leaving the country with barely one-fourth of its original size.
We do know that approximately 100,000 people became refuges when they were forced to abandon their homes at the start of the war, and again permanently at the conclusion of the war. They fled to find sanctuary in Armenia and try to rebuild some semblance of their lives.
We also know that the number of soldiers killed is more than 5,000 at this time. Most of the 10,000 injured have major medical needs including prostheses for their lost limbs. Daily, countless funerals are held. And there are still many soldiers for whom there is no information, including those who are being held prisoners by the Azeris.
The needs are great for those in our homeland. They need encouragement, they need our prayers and they need our resources. Please click here to offer financial assistance.
December 12 is the Feast of St. James of Nisibis
St. James, a cousin of St. Gregory the Enlightener, was appointed bishop of Nisibis, Mesopotamia, in 308 A.D. (Nisibis is the modern city of Nusaybin in southwest Turkey on the border with Syria.) He founded a theological school there, attended the Council of Nicaea in 325 A.D., and was renowned for his pious and virtuous life. One of the young men he mentored was St. Ephrem, who was to become a prolific writer and particularly beloved to the Armenian Church.
James is perhaps best known, however, for his divine vision on Mount Ararat, where he found the sacred relic of Noah's Ark.  According to tradition, while St. James preached in and around Nisibis, he heard that people doubted the story of Noah's Ark. He was determined to provide his flock with evidence, so he set out for the peak of Mount Ararat to find the remains of the ark. During his arduous journey, an angel appeared to him in a vision and brought him a piece of the wood from Noah's Ark. St. James prayed to God to produce a miracle at the place where he had the vision and immediately afterward a spring gushed forth, which exists to this day. The relic of Noah's Ark received by St. James is currently housed in Holy Etchmiadzin.
Reflection: In the spirit of St. James, identify an ambitious faith goal you are determined to achieve. Pray for strength to persevere. Mentor someone on the journey.
Department of Christian Education/Diocese of the Armenian Church of America (Eastern)/elisea@rmeniandiocese.org
TODAY'S BIBLE READINGS:
2Thessalonians 1: 1-12 (page 187) New Testament
Luke 14: 12-24 (pages 70-71) New Testament – (Please follow the Armenian Reading in your Bible)
Isaiah 37: 14-38 (pages 713-714) Old Testament
REQUIEM SERVICES: Hokehankist today will be for:
– ARAM AVEDIS AGHAZARIAN (3rd Anniversary of His eternal life) requested in loving memory by Lucy, Lori and Aram Alan Aghazarian.
-Rev. Mgerditch and Yeretzgin Ovsanna Minassian, Misak and Noemzar Mazmanian, Avak Sargavark Shahab and Mary Minassian, Sargavark Sebouh and Rose Minassian, Gabriel and Virginia Tatarian, John Arslanian & Jack, John, and Sooren Goushian requested by Bryan and Talene Peckjian and Family, Michael and Suzanne Sherenian and family:
"Lord, the God of heaven, the great and awesome God, who keeps his covenant of love with those who love him and keep his commandments, let your ear be attentive and your eyes open to hear the prayer your servant is praying before you day and night…." (Nehemiah 1:5–6).   Prayers are requested for Ethel Terzian, Taron Poghosyan, Alice Charles, Theodora Mirakian, Leslie Movsesian and Zevart Shakarjian.
COUNTRY STORE NEWS
Although the Country Store is closed today, the Country Store is now taking online orders for enjoyment during the Christmas holidays. Pick-up date is December 13th ONLY between noon and 1:30 pm.  Deadline to place your order is Thursday, December 10th.  Orders not picked up by 1:30 pm on the 13th will be returned to the freezer for a future pick-up date by appointment. Click here to place an order.
Hats of Faith Project: We have been asked by our sister church St Sahag & St Mesrob to participate in the Hats of Faith Project. We need knitted dark hats for our soldiers in Armenia. Please include a short note with each item to encourage the soldiers. If you do not knit, buy a hat(s), warm socks, or gloves to donate. The due date at our church is Sunday, Dec 6. They will be shipped by Dec. 10. If you have any questions, please feel free to give me a call, 610-449-2236, or text me at 610-220-9860. Elizabeth Barone
Thank you. God bless Armenia!!!
MARK YOUR CALENDARS:  December 8 @ 7:30 PM –  We are pleased to announce that  PBS will be showing two important films about Armenians as a double feature: "What Will Become of Us" by filmmaker, Stephanie Ayanian and the documentary, "100 Years from Home" about an Armenian woman who travels back to Armenia to find her ancestral home.  Please share this information with your family and friends.
REMINDER: According to the Diocesan Bylaws, membership dues are to be paid no later than December 31st each year in order to be a member in "good standing" and to be eligible to vote at the annual assembly. Any monies received after that date will be applied to the new year.  For any questions regarding your status, please call the church office.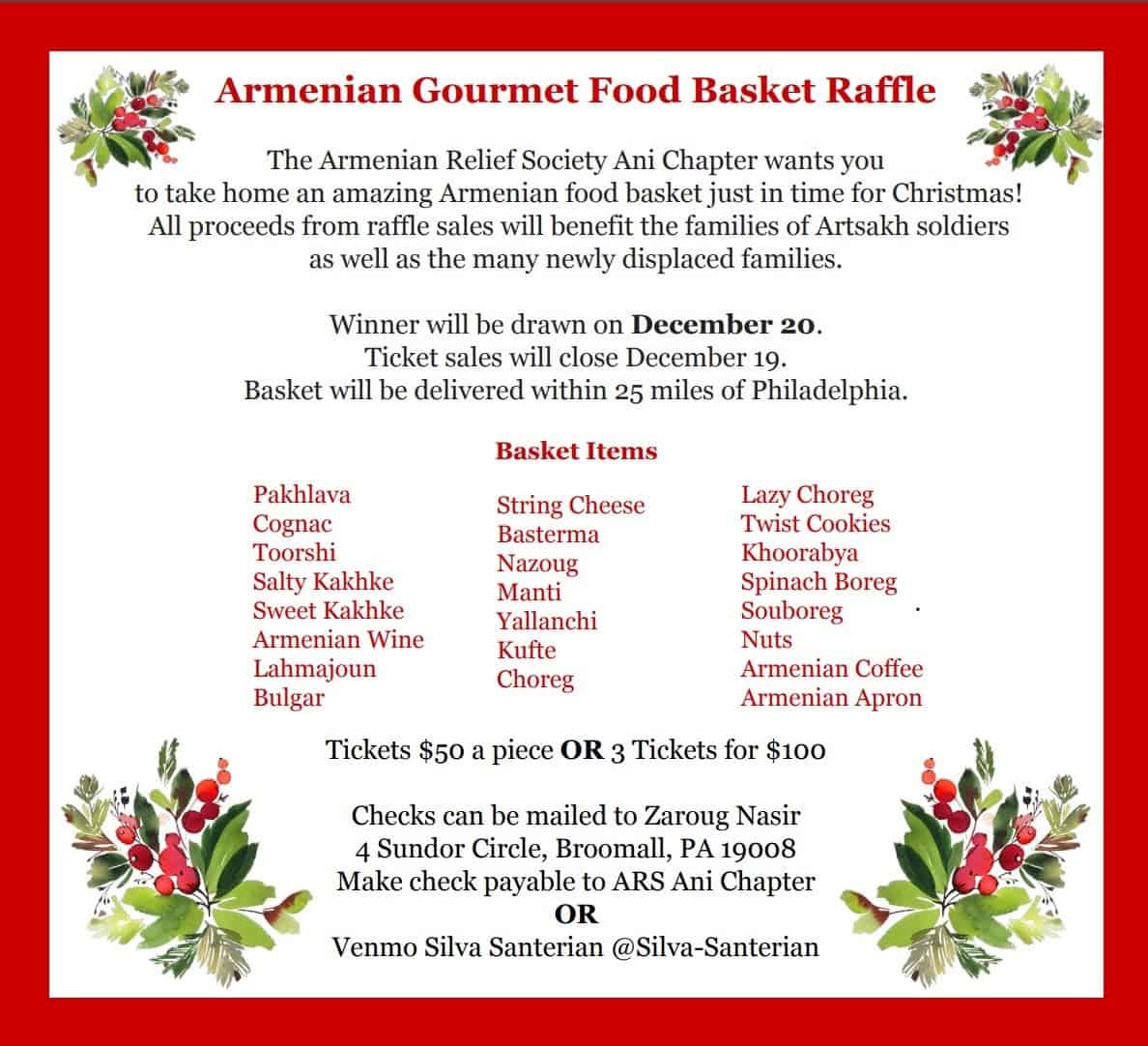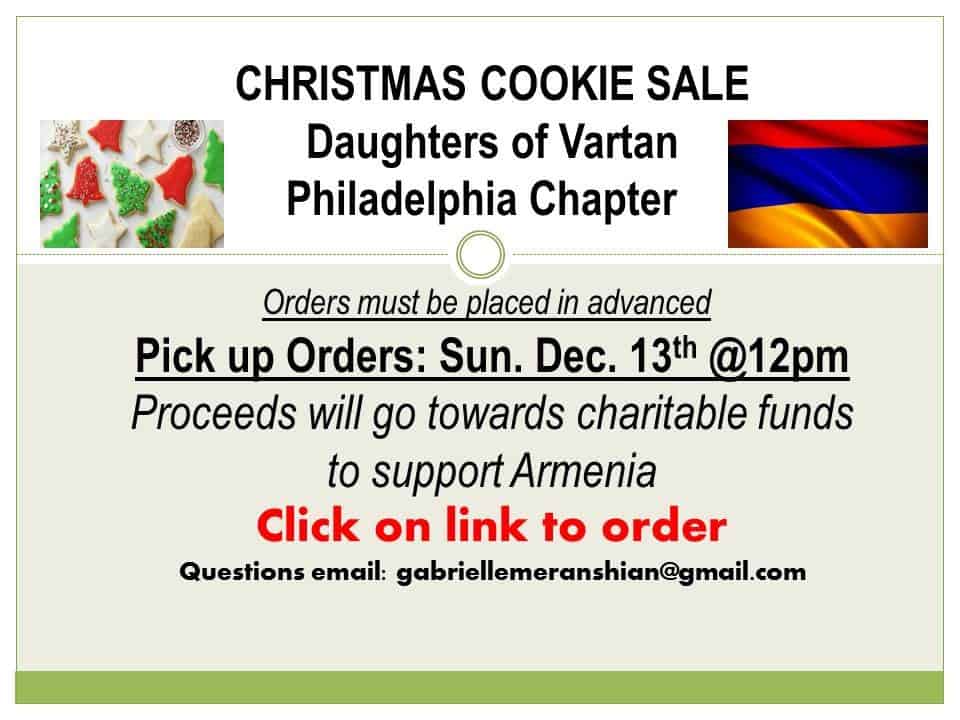 https://forms.gle/EC4HrdwxvEbtAEqT7
We do plan on live streaming service on Sunday
click here to watch live on Facebook